We all know that business has dramatically changed in the last 10-15 years and a major catalyst in the way we do business has been Amazon.
Whether you directly compete with them in some way or not, Amazon has changed everything from retail to the way we'll be watching TV. But what's the secret to the most disruptive company on the planet, and what can we as leaders learn from their model?
Our guest today is John E Rossman an advisor to leaders on digital strategy, including the internet of things. He is a sought-after speaker on creating a culture of operational excellence and innovation.
He is the author of "The Amazon Way: 14 Leadership Principles of the World's Most Disruptive Company", and The Amazon Way: 10 Principles for Every Leader from the World's Leading Internet of Things Strategies. And he should know because John was an executive at Amazon.com where he launched the marketplace business, and ran the enterprise services business, which today is over 50% of all Amazon units and supports over 3 million sellers. He is a leading analyst on Amazon and has been featured by the New York Times and CNBC.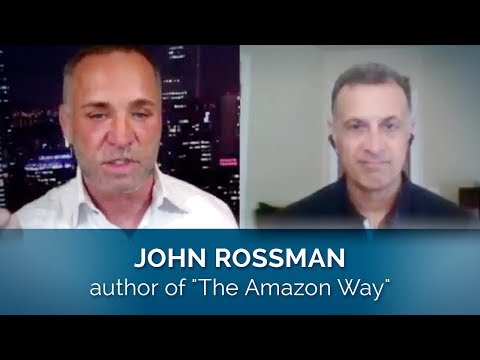 More on John Rossman: https://JohnRossman.com & https://the-amazon-way.com To hire Leadership Speaker-Consultant (and Host) Dov Baron: https://FullMontyLeadership.com
With Gratitude,

My Authentic Leadership Matrix is free this link! Why? Because one of the questions I'm most often asked is; What authentic leadership is and how do we define it? As a result, with years of experience and extensive requests, I created Authentic Leadership Matrix. It's designed to give you a clear process of how to perform in each of the five main areas that are required for you to become a world class authentic leader. Start your yes and no evaluation to discover your leadership traits here: https://matrix.fullmontyleadership.com
Click here for my latest for Entrepreneur.com.
Want to retain your top talent? Then my "Fiercely Loyal" book is for you! Plus get your free: "How to instantly bond any team" infographic.
Comments
comments